Making bourbon whiskey a distinctive product of the US was a political success story
Representative John C. Watts of Kentucky wrote history, as he introduced H. Con. Res. 57 to the 88th Congress on January 24, 1963. This resolution passed on May 4, 1964 by a majority vote. It states that:
"Bourbon whiskey is a distinctive product of the United States and is unlike other types of alcoholic beverages, whether foreign or domestic."
Since that day it is legal to produce bourbon anywhere in the United States provided the distillery has been licensed.
Kentucky has had a strong historical association with bourbon before introduction of Res. 57 by Kentucky representative John C. Watts. Though, after passing of the bill this historical claim and geographical name right was secured worldwide.
Protecting bourbon worldwide is a remarkable political success story, and today, as a matter of fact most bourbon brands are still produced in Kentucky, and the  "Kentucky bourbon trail" founded in 1999 became one of the most important tourist attraction of the State with more than one million visitors since 2017.
Resolution 57 offered for the first time in history trade protection against foreign competitors, not only for the State of Kentucky but all United States of America. This resolution has a similar effect as tariffs on other spirits produced overseas, i.e.  French cognac or Scotch whisky. The concurrent resolution did not require the signature of the President as this resolution was not a law. It's economical impact though is historically significant for the United States of America!
Bourbon Regulations
The Code of Federal Regulations (CFR) includes Title 27, Chapter I (27 CFR Chapter I) which is administered and overviewed by the TTB (Alcohol and Tabaco, Tax and Trade Bureau).  Bourbon is detailed in 27 CFR 5.22 – The standards of identity as follows:
must be produced in the USA and its US territories (including Puerto Rico, Guam and and Virgin Islands)
produced with a mash bill that is at least fifty-one percent (51%) Corn.
aged in new, charred white oak containers
distilled to not more than one hundred sixty (160) proof or eighty percent (80%) alcohol by volume
placed in a barrel at not more than one hundred twenty-five (125) proof or sixty-two and one-half percent (62 1/2%) alcohol by volume
bottled at not less than eighty (80) proof or forty percent (40%) alcohol by volume
Bourbon has no minimum specified duration for its aging period. If aged in a barrel for at least two (2) years it is to be called straight bourbon.
The bourbon success
As bourbon was made a designated product and quality standards were controlled by the TTB, bourbon began to develop from a former, fairly cheap priced whiskey category to a high quality signature product worldwide. Today, bourbon is one of the most important economical success factors for Kentucky, and the United States of America.
Creating Of A Signature Industry
Bourbon industry in Kentucky creates an $8.6 billion economic output, generating 20,100 jobs with an annual payroll of $1 billion in 2019.
Kentucky Bourbon Tourism
The Kentucky Bourbon Trail® tour (founded in 1999) and the Kentucky Bourbon Trail Craft Tour® (founded in 2012) grew to become touristic attraction for visitors worldwide. Bourbon tourists made a record 1.7 millions stops to Kentucky distilleries in 2019; as an economical impact study of the same year showed that the bourbon industry in Kentucky provided twice as many jobs, payroll, capital investment and tax revenue than just ten years prior. Read about the detailed economical impact summary by the Kentucky Distillers' Association in January 2019 here.
Historical Marketing
The success story of bourbon shifted the historical perception worldwide that commercial distilling in America started with bourbon production in Kentucky, e.g.
Evan Williams (~1783/1794)
Naming of the Bourbon County in Kentucky (~1785)
Jacob Myers (~1795) et al
BOURBON
Bourbon, the American Whiskey that must not come from Kentucky
As Kentucky took the initiative in the 1964 campaign to protect bourbon for not only Kentucky thus all United States of America, it became the historic leader for bourbon heritage.
This political campaign was a global marketing success for the State of Kentucky being the international known birthplace of bourbon, and it is the number one attraction for bourbon aficionados and tourists from all over the world.
Bourbon is a drink named after the French Bourbon family. It is wildly celebrated as Americas only native spirit. And, taking a look at today's legislation this may be a correct legal answer, thus historically speaking, this is not the full picture of North American distilling heritage and distilling culture.
American distilling began many years before Even Williams (~1783), Robert Samuels (~1784) or Elijah Craig (~1789) started distilling, to be precisely it was in the year of 1632 –  more than 150 years earlier than bourbon was distilled for the first time.
Evan Williams (~1783/1794)
Evan Williams, a Welsh immigrant,  settled in Kentucky and began distilling allegedly in 1783 (today Louisville, Kentucky). William is honored as Kentucky's 1st distiller, as shown on the historical marker in Kentucky. Historian Michael Veach (Filson Historical Society) has raised reasonable doubts in 2013 about Evan Williams starting his distilling business in 1783. He places Evan Williams set-up of the distillery after May 1794 due to a traveling record of Evan Williams from London to Philadelphia that year.
The modern whiskey brand "Evan Williams" was introduced in 1957. Today, the product is bottled in Bardstown, and it is distilled at the Heaven Hill distillery in Louisville, Kentucky.
Robert Samuels (~1784)
Marker's Mark Distillery in Kentucky owns a copy of a tax bill of Robert Samuels Sr., a Scottish/Irish immigrant, dating back to 1779 Pennsylvanian colony proving his ownership of a 60 gallon still. This is the oldest proof of distilling activity of the Samuels family in North America. The very same year, 1779, his son claimed 60 acres of land in Kentucky near Bardstown area, where he moved his family in 1784 and started a distillery. The Samuel clan claims that their "secret recipe" was created by Robert Samuels already in 1783. In 1840-1844 T.W. Samuels (Robert Samuel's grandson) constructed a distillery at Samuels Depot, Kentucky which is considered by some as the starting date of the Samuels family commercial distillery business.
Elijah Craig (~1789)
Elijah Craig was a Baptist preacher born in Virginia that led his congregation to Fayette County (today Kentucky) in 1782, where he started his distillery a few years later around 1789. He is often attributed with the invention of bourbon, and/or being the first aging whiskey in charred oak casks, which is likely a legend. It is neither true that his distillery was ever located in Bourbon County giving bourbon its name.
Though, Reverend Ellijay Craig was a very successful business man of his time, starting a rope and a cloth factory beside his distilling and preaching activities, and this made him leave significantly more records than other early distillers. He continued preaching until his death, and there is no doubt why he was honored with the title "a father of bourbon".
The brand "Elijah Craig" was first registered in the 1960th and is today produced by Heaven Hill Distilleries.
Jacob L. Beam (~1795)
Jacob L. Beam was a son of the Böhm family (they later anglicized their name to Beam), a German immigrant family that came to Pennsylvania in 1752.
In 1788, Jacob Beam took his family and settled in Nelson County, in the newly established State of Kentucky. Jacob is said to have began distilling whiskey as soon as 1788 for his private usage, however, it is confirmed that he entered the commercial whiskey business a few years later in 1795.
Today, Jim Beam is a bourbon brand produced in Clermont, Kentucky, by Beam Suntory. It is one of the best-selling brands of bourbon in the world.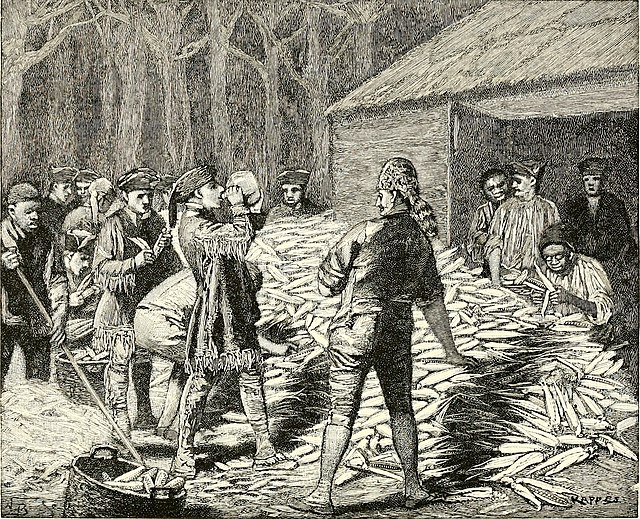 When in 1792 Kentucky was admitted to the new union, it became the western frontier of the new United States. Therefore, Kentucky whiskey was early nicknamed "Western Whiskey" distinguishing it in its taste and its making from Eastern rye whiskies.
Who was the first bourbon distiller?
As only few documents are available, it is an unanswered question.  Among the distillers competing for the title being the first Kentucky bourbon makers are further to be added:
In 1775, William Calk settled in Boonsboro, and it was recorded that he was in possession of distilling equipment.
In 1776, Stephen Ritchie is known for distilling whiskey in Nelson County.
In 1789, Daniel Stewart advertised a 120 gallon copper still for sale.
Around 1795 Jacob Meyers and Jacob Forman of Lincoln County, Marsham Brashear of Jefferson County, and Jacob Spears of Bourbon County have been associated with early distilling activities.
The term "bourbon whiskey" was first used about 60 years later on a label in the 1850th. So maybe, the time of naming bourbon is a historical hint that the creation and definition of what makes bourbon bourbon was finalized. As mash bills of early distillers are mostly unknown, though the predominant usage of corn for the mashing is one of the most important factors to be considered, maybe historians need to reconsider the usage of Western Whiskey for whiskeys produced in Kentucky in the time before the 1870th. The naming of the product as bourbon is a significant signal that some kind of a definition was made, and that "bourbon" should be differentiated to other – at that time known – Western Whiskeys.